Smart cars, how smart are they?  Not smart enough to pass your drivers test for you or to automatically eject incompatible partners before you get them home (wouldn't that be nice).   Actually the name 'Smart' is an acronym for Swatch Mercedes Art, referencing the partners in the project to build the revolutionary small car, not your IQ for buying this vehicle.  It is revolutionary because of its unique combination of size, mileage, versatility and safety.  Swiss Watch maker Swatch came up with the vision for the smart car, and convinced German automaker Mercedes to build them. 
With gas prices high, and bank accounts low, Joe Six Pack could use a break from the gas pump pain.  The Smart Car gives them a break, with fuel economy ranging from 33 miles per gallon in the city and 41 on the highway, and reports that folks are doing even better than that.  The EPA ranks the 2008 smart fortwo as the most fuel efficient two seater on the market.  That's right, the basic Smart Car model is called the smartfortwo, as in "for two", meaning leave the kids at home!
Don't get giddy yet, about that mileage.  Smart cars require premium 91 octane high priced gasoline. 
The producers of the Smart car have shown a concern for the environment, which has added to it's appeal. Only water-soluble paints are used for the car's three basic colors - black, white and yellow. The smart fortwo is classified as an Ultra-Low Emission Vehicle (ULEV) because of its extremely low exhaust emissions. Also, the car's body panels are fully recyclable. Protecting the environment is part of the mission of the smart car makers.
With a size so compact it looks like a football player could knock it on its butt, it still ranks high on the safety charts.  The smart fortwo is about as long as most cars are wide.  Which means you can park about two or three of them in one parking space.  Yet, it earned the highest ratings for front and side crash protection from the Insurance Institute for Highway Safety. 
So is this thing too small for the average Joe?  Word is that Shaquille O'Neal, a.k.a. Shaq Daddy, bought a smart fortwo.  Pictures are floating around the internet showing him in the driver's seat of one.  Yes, that's seven feet two inches and 400 pounds of man mountain.  We're not sure which is bigger, Shaq or the car.  Is it too slow for our roads?  Not unless you're looking for a getaway car.  Top speed is 85 mph.  Pickup may be a problem, though, with 0 to 60 miles per hour estimated to be a pathetic 14 seconds.  That compares favorably with my son's bicycle!
<![if !vml]>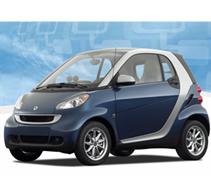 <![endif]>


The price of the basic Smart Car starts at under $12,000.  A hybrid version will soon be available with better gas mileage, and a much heftier price tag.  Before you get too excited, you need to know there's a long waiting list (rumored to be more than a year).  So, you may have a better shot at getting a Bentley!




OTHER AWESOME AUTOS - COOL CARS
1. Bentley Automobiles
2. Smart Cars
3. Hybrids - Chevy Volt